Laparoscopic Open Vessel Sealer Forceps / Biclamp Forceps For Surgery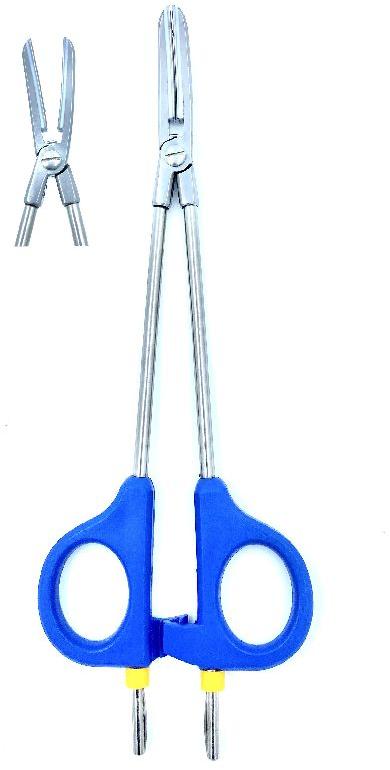 Price :
3,500.00 - 5,000.00
/ piece
MOQ : 1 piece
Business Type
Manufacturer, Exporter, Supplier, Trader
Country of Origin
India
Type
Open Vessel Sealer
Material
Stainless Steel
Click to view more
Product Details
Usage/Application
Hospital
Delivery Time
1-3 Working Days
Open Biclamp Forceps, also known as open bipolar forceps or open bipolar coagulation forceps, are surgical instruments used in various surgical procedures. These forceps are designed to provide a combination of grasping and coagulation functions. They consist of two elongated arms that are joined together at one end, forming a pincer-like structure. Here are some common uses of Open Biclamp Forceps:
Hemostasis: Open Biclamp Forceps are often used for hemostasis, which involves controlling bleeding from blood vessels during surgery. The forceps can be used to grasp the bleeding vessel and apply gentle pressure to occlude it. The bipolar coagulation feature allows for precise and controlled cauterization of the vessel to stop the bleeding.

Tissue manipulation: These forceps can be used to manipulate tissues during surgical procedures. Surgeons can grasp and hold tissues firmly while performing various surgical maneuvers, such as dissection, retraction, or suturing.

Electrocoagulation: Open Biclamp Forceps are designed with an insulated coating on the tips of the arms, except for the very ends. This allows for precise electrocoagulation, as an electrical current can be applied to the tissue only at the exposed ends of the forceps. The bipolar coagulation feature enables targeted tissue coagulation without the need for additional grounding pads.

Tubal ligation: In gynecological procedures, Open Biclamp Forceps may be used for tubal ligation, a surgical method of female sterilization. The forceps are used to grasp and occlude the fallopian tubes, and then bipolar coagulation is applied to seal the tubes, preventing the passage of eggs and sperm.

Other surgical applications: Open Biclamp Forceps can be utilized in a variety of surgical procedures where grasping and coagulation are required, such as gastrointestinal surgeries, urological procedures, or general surgeries involving vascular structures.
It's important to note that the specific design and features of Open Biclamp Forceps may vary among different manufacturers and surgical specialties. Surgeons choose the appropriate forceps based on the specific requirements of the procedure and the surgeon's preference.
As with any surgical instrument, the use of Open Biclamp Forceps requires proper training and adherence to surgical principles to ensure safe and effective outcomes.
Looking for "
Laparoscopic Open Vessel Sealer Forceps / Biclamp Forceps For Surgery

" ?
piece