laparoscopic virtual endo trainer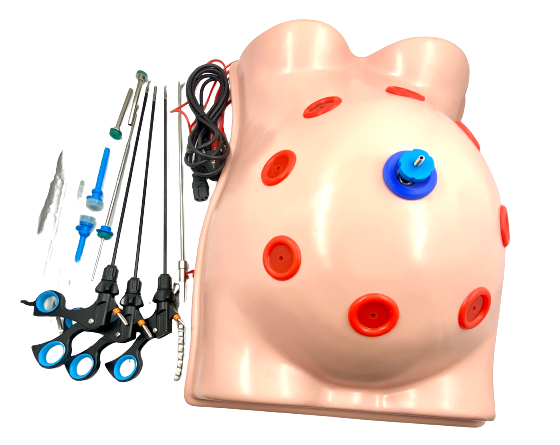 Price :
14,450.00 - 25,000.00
/ Piece
MOQ : 1 Set
Business Type
Manufacturer, Exporter, Supplier, Distributor
Country of Origin
India
Type
Camera & Viewing Screen
Material
Fiber
Click to view more
Product Details
Application
For Surgery Practise
Usage/Application
Laparoscopic Surgery
Delivery Time
1-3 Working Days
A laparoscopic endo trainer, also known as a laparoscopic simulator or virtual reality surgical simulator, is a training device designed to simulate laparoscopic surgical procedures. It provides a controlled environment for surgeons and trainees to practice and improve their laparoscopic surgical skills. Here are some common uses and benefits of a laparoscopic endo trainer:
Skill Development: The laparoscopic endo trainer allows surgeons to develop and refine their laparoscopic skills in a safe and controlled environment. It provides a platform to practice various techniques, such as hand-eye coordination, instrument manipulation, tissue dissection, suturing, and knot tying.
Procedural Familiarization: Surgeons can use the endo trainer to become familiar with specific laparoscopic procedures before performing them on actual patients. It allows them to understand the anatomical landmarks, instrument handling, and step-by-step procedure, enhancing their confidence and efficiency in the operating room.
Hand-Eye Coordination: Laparoscopic surgery requires precise hand-eye coordination due to the indirect visualization provided by the laparoscope. The endo trainer helps surgeons develop and improve this crucial skill by providing realistic laparoscopic visuals and tactile feedback during instrument manipulation.
Team Training: Laparoscopic procedures often involve a team of healthcare professionals. The endo trainer can be used for team training exercises, allowing surgeons, assistants, and nurses to practice coordination and communication in a simulated surgical scenario.
Objective Assessment: Many endo trainers come with built-in assessment features, such as scoring systems and performance metrics. Surgeons can receive objective feedback on their performance, including time taken, accuracy of instrument movements, and procedural efficiency. This feedback helps identify areas for improvement and track progress over time.
Reduced Risk: Using an endo trainer for training and skill development reduces the risk associated with learning on actual patients. Surgeons can practice techniques, troubleshoot challenges, and gain proficiency before performing procedures on live patients, thereby enhancing patient safety.
It's important to note that the effectiveness of laparoscopic endo trainers can vary depending on the specific device and its capabilities. Surgeons and trainees should receive appropriate training and guidance on using the endo trainer effectively and incorporate it as part of a comprehensive laparoscopic surgical education program.
Looking for "
laparoscopic virtual endo trainer

" ?
Piece