Laparoscopic Ethicon Needle Holder Curved Jaw 5mm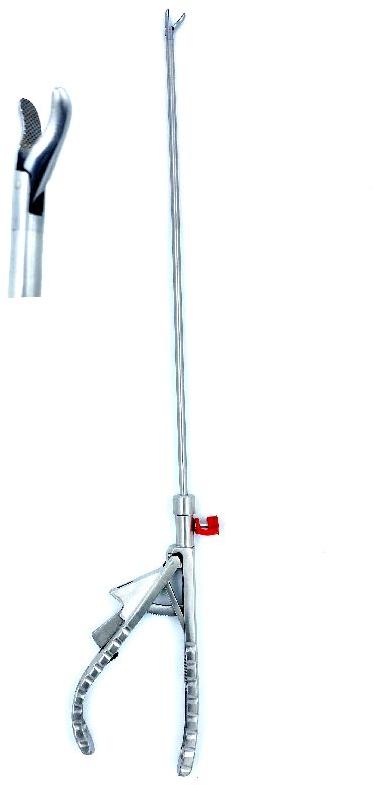 Price :
2,500.00 - 4,500.00
/ piece
MOQ : 1 Piece
Business Type
Manufacturer, Exporter, Supplier
Country of Origin
India
Type
Ethicon Needle Holder
Material
Stainless Steel
Click to view more
Product Details
Feature
Durable, Good Quality, Light Weight, Rust Proof
Delivery Time
1-3 Working Days
A laparoscopic needle holder curved is a specialized instrument used in laparoscopic surgery for holding and manipulating needles during suturing and stitching. It is designed with a curved shaft to facilitate better access and maneuverability in the limited space of the abdominal cavity. Here are some common uses of a laparoscopic curved needle holder:
Suturing: During laparoscopic procedures, such as minimally invasive abdominal surgeries, the laparoscopic needle holder curved is used to grasp and manipulate sutures. The curved jaws of the instrument securely hold the needle, allowing the surgeon to pass it through tissues and create sutures.
Tissue Approximation: Laparoscopic curved needle holders are used to bring together and approximate tissues during closure. This can be particularly important in cases such as wound closure or organ repair.
Anastomosis: During gastrointestinal or vascular procedures, laparoscopic curved needle holders are utilized to perform anastomosis, which involves joining two hollow structures together, such as blood vessels or sections of the intestine. The instrument helps in passing the needle through the tissues accurately to create a secure connection.
Knot Tying: The laparoscopic curved needle holder enables the surgeon to manipulate the suture thread and assist in tying secure knots. The curved design allows for better access and improved handling of the suture during knot tying.
Hemostasis: In cases of bleeding or vascular injury, laparoscopic curved needle holders can be used to grasp and ligate blood vessels or apply sutures to achieve hemostasis, preventing further bleeding.
It's worth noting that laparoscopic curved needle holders require skill and dexterity to use effectively. Surgeons undergo training and practice to master the techniques involved in laparoscopic suturing and stitching.
Looking for "
Laparoscopic Ethicon Needle Holder Curved Jaw 5mm

" ?
piece