Laparoscopic Ring Band Applicator Gynecology Instrument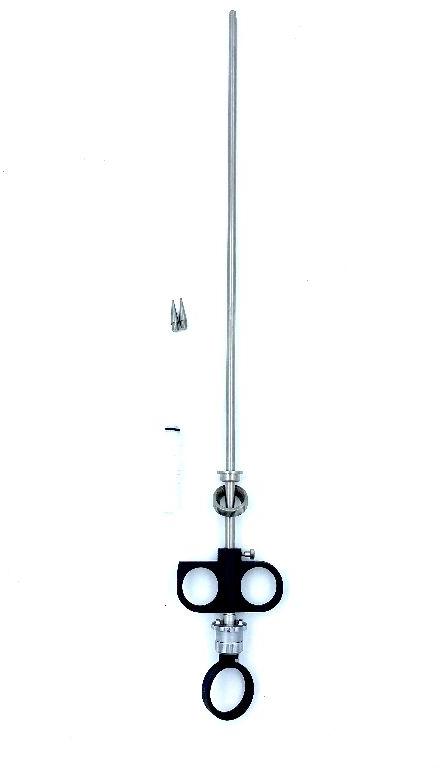 Price :
3,500.00 - 6,000.00
/ piece
MOQ : 1 piece
Business Type
Manufacturer, Exporter, Supplier, Distributor
Country of Origin
India
Type
Ring Applicator
Material
Stainless Steel
Click to view more
Product Details
Feature
Gynecology Surgery
Delivery Time
1-3 Working Days
A laparoscopic ring applicator, also known as a uterine manipulator ring applicator, is a specialized instrument used in laparoscopic gynecological procedures, particularly in laparoscopic hysterectomy or myomectomy. It is used to manipulate and retract the uterus during surgery. Here's how a laparoscopic ring applicator is used:
Patient Preparation: The patient is positioned appropriately for the laparoscopic procedure and placed under general anesthesia.
Trocar Placement: Trocars (hollow tubes) are inserted into the abdominal cavity through small incisions to provide access for the laparoscopic instruments, including the ring applicator.
Instrument Insertion: The laparoscopic ring applicator is inserted through one of the trocar ports, controlled by the surgeon from outside the patient's body.
Uterine Manipulation: Once inside the abdominal cavity, the surgeon positions the ring applicator around the cervix and attaches it securely. The ring applicator usually has a locking mechanism to hold it in place.
Uterine Retraction: The ring applicator allows the surgeon to manipulate and retract the uterus during the procedure. It provides stability and better exposure of the surgical area, making it easier to perform the surgical steps.
Surgical Procedure: With the uterus retracted and stabilized by the ring applicator, the surgeon can proceed with the laparoscopic hysterectomy or myomectomy. The ring applicator helps in accessing and visualizing the targeted structures, facilitating the removal of the uterus or myoma (fibroid) with precision.
Removal: After completing the surgical procedure, the ring applicator is detached from the cervix and carefully removed from the abdominal cavity.
The use of a laparoscopic ring applicator can improve the visualization and accessibility of the uterus during laparoscopic gynecological procedures, enhancing surgical precision and safety. It is important for surgeons to receive proper training and follow established guidelines to ensure the safe and effective use of the ring applicator.
Looking for "
Laparoscopic Ring Band Applicator Gynecology Instrument

" ?
piece